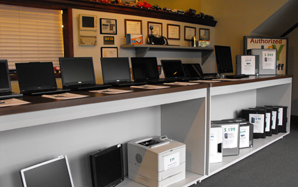 DaytonIT - Computer Shop
941 East Franklin Street
Centerville, Ohio 45459
Small Business & Home Users
Computer Upgrades & Repairs
Used & Refurbished Computers
for Sale Click Here
Call 937-886-0362 Anytime
Laptop Computer repair shop located in Centerville, Ohio. Serving the greater Dayton Ohio area including Beavercreek, Bellbrook, Kettering, Lebanon, Mason, Miamisburg, Springboro, West Carrollton, West Chester and Waynesville.
Computer Shop Services include:
Repairing Dell, Compaq, HP, IBM , Lenovo, Acer, Toshiba, eMachine and all other Computers and all Laptops
Upgrading all Computers and all Laptops with more ram and larger hard drives
Removing Viruses, Adware, Spyware and Internet Threats slowing down older computers
Buying and Selling older laptops, computers and equipment
Convenient Centerville Location and Hours for Drop-off and Pick-up
Dayton IT professionals have expertise with Windows 2000, Windows XP, Windows Vista, Windows 7, Server 2000, Server 2003, Server 2007, Firewalls and Security. (User Rights, Group Policies, Internet Traffic Scanning, Port Blocking, System Updating). We can setup automatic company wide security systems for all the computers on your network.