1979 B&W 802 Speaker Refurbish Project
Finished value in 2022 about $2,500

The predecessor - the B&W 801 Audio Reference Monitor became famous as it was used by every famous recording studio around the world. The B&W 801 design had the separate midrange and tweeter "head" mounted on top, which is a design feature still used on high end B&W speakers.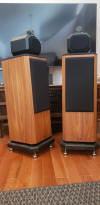 In 1979 B&W created the 802 as a domestic monitor system, it is said to be the first ever "tower" design. The 801 hard a large square bottom enclosure with a single large woofer, wanting a smaller footprint the 802 used (2) smaller woofers in the upright tower enclosure. The 802 used the exact same crossover circuit and "midrange/tweeter head" as the 801. The enclosures have Teak Veneer applied in a "Slip Matching" process where the fronts and sides are "Grain Matched" with sequential veneer panels. Shown to the left are our completed speakers.


The enclosures were in very good condition and simply sanded and oiled.
Notice the custom oak base/plinth that we made allowing adjustable vibration absorbing feet or spikes to be installed.
Two woofers were sent out to be re-coiled.
Images may be clicked for full sized images.

We tested and evaluated the complex Fourth Order Butterworth Crossovers.
Shown is the original before we installed all new high quality audio capacitors.


Each speaker had (3) separate grills that we installed new grill cloth onto.


The midrange/tweeter heads were completely disassembled sanded and painted black from their previous 1980's brown color. The tweeter and midrange drivers were all tested and found to be in great condition.
Images made be clicked for full sized images.