DaytonIT Computer Shop
941 E Franklin St
Centerville, Oh
937-886-0362
Mon-Fri 2pm-8pm
Sat 10am-2pm MAP

DaytonIT Remains OPEN - Implementing Safeguards:

The DaytonIT Computer Shop Continues to Provide ESSENTIAL Computer & Laptop – Sales & Service and "Individuals & workers may leave their homes & businesses to seek these Essential Services"

To ENFORCE Social Distancing and avoid spreading the virus we will interact with customers thru our windows and NOT in our showroom, computers and laptops are PASSED THRU A DRAWER and disinfected as they come and go. Our external keyboards and mice are used when servicing, work areas are disinfected on a regular basis.

Customers comments: "Clever", "Now that's Ingenuity" and "Thanks for taking this seriously". Charles with multiple PHDs in Health and Nutrition and a board member of the World Health Organization said "Great, Incredible System that helps keep business running while preserving the health of customers"

Website Design for Sales Leads

Search Engine Optimization is our number 1 priority.
Website Optimized for Mobile Devices
Your FIRST PAGE should look something like this: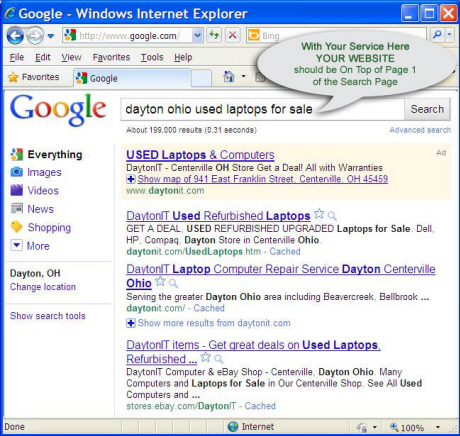 The above provides PROOF that we can get most websites at the Top of the Google First Page !
One of our Services: "Used Laptops for Sale" competes with big budget national companies and then local computer stores having their own internal webmaster that spends hours and hours developing their own web sites to improve their Search Engine Optimization (SEO) - but the above screen shot shows how we beat them and on a small budget!
We have over twenty years experience in Sales & Marketing, Computer Programming and Quality Control. With this combined experience we can produce results!
We can develop an effective Web Site for your business!
Top of Google Page 1 Exposure

Online Shopping Sites

Search Engine Optimization

Full Graphic Design Services

eMail Marketing, Multi-Media Features, Online Forms

Click here for Samples of Our Work
Sure - Many of us can make you a cool, neat, pretty, awesome, professional website,
But most important - is that it gets found by prospects and Search Engines (period)

And YES we can setup eBay Stores Click to See !
The DaytonIT Computer Shop shop is located in Centerville, Ohio. Serving the greater Dayton Ohio area including Beavercreek, Bellbrook, Kettering, Lebanon, Mason, Miamisburg, Springboro, West Carrollton, West Chester and Waynesville.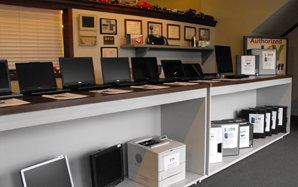 DaytonIT - Computer Shop
941 East Franklin Street
Centerville, Ohio 45459
Small Business & Home Users
Computer Upgrades & Repairs
Used & Refurbished Computers
for Sale Click Here
Call 937-886-0362 Anytime

Sales Support Dayton, Inc. dba DaytonIT
Effective Web Site Design - TOP of GOOGLE Home Page EXPOSURE - Ten Years Experience making effective Web Sites, Dayton Centerville, Ohio