Following is a "Speaker Refurbish Project" that we completed, these speakers sold for $1,600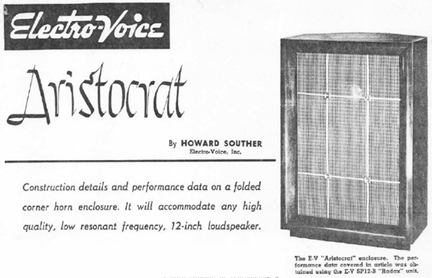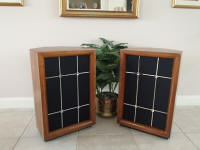 Mid-Century 1950's Electro-Voice
Mahogany Aristocrat III 3-Way Speakers
High-Fidelity, Klipsch Engineered Loud Speakers
Completely Reconditioned - Excellent Sound and Appearance
All pictures can be clicked for very large views!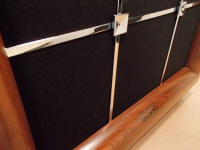 Modernized with Chrome Plating and Black Grills
Truly "One Of A Kind - Designer" EV Speakers
Very Exciting to See and Hear!
Our "Designer" speakers feel very much at home in today's modern surroundings while still retaining their 50's classic identity and unmistakable sound.
These would be excellent for use in your home but would be especially unique for a business, bar or restaurant. Sure to become conversation pieces and vintage landmarks for your business, "the place with the awesome vintage Electro-Voice speakers". The distinctive sound of the Electro-Voice Horns really cause visitors to seek out the source of the music for a look. And then the classic Aristocrats appear with their equally distinctive Mahogany Cabinets with the Chrome and Black Grills.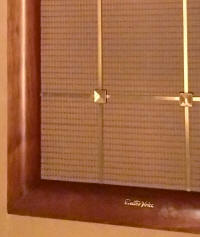 While still retaining their 50's classic identity, we feel the updated look of the chrome plated grill and black speaker cloth is far more dramatic than the brass over tan cloth that were designed to match the more subdue home decor of 60 years ago.
Shown to the left are the speaker grills before our redesign.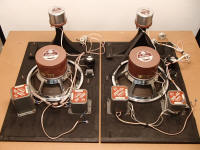 Original "Chrome" Drivers
Tested and Reconditioned as needed for excellent sound and many years of use
(1) with T25A Midrange, T35B Tweeter, 12" SP12 Woofer, X8 and X36 Crossovers
(1) with T25A Midrange, T35B Tweeter, 12" 12W Woofer, X8 and X36 Crossovers
Note that back in the 50's when these were made and sold, equipment was all Monophonic, no Stereo equipment yet! So they were sold one speaker at a time, later when Stereophonic became popular the owners would go out and purchase their second Aristocrat to give them a pair for stereo use. As a result 'matched pairs' are extremely rare; however this pair's driver components are nearly matched as only the woofers are slightly different models.
The speaker drivers are all 16 ohm and rated about 30 watts - 50 watts peak. However, they are extremely efficient and can easily be driven with as little as 10 watts we believe. They have Brightness and Presence adjustable controls to adjust for your space and sound preferences. 'Brightness' controls the T35B tweeters horns while 'Presence' controls the T25A midrange horns. The speaker cabinets are ported out the back and are designed to be 'corner' speakers if you like. They should be placed within 2" - 4" of a wall or within 2" - 4" of corner walls for the best bass sound effects.
Electro-Voice pdf Spec Sheets - Click to Open > Aristocrat III T25A Midrange SP12 Woofer 12W Woofer T35B Tweeter (note: closest T35B spec sheet we could find is for 8ohm version)
All pictures can be clicked for very large views!
We purchased these from the original owner at an estate sale, they were in good condition but as will all speakers this age, they were in need of reconditioning for extended life, and a facelift.
The speaker drivers are all original, fully tested and sent out to a specialist for reconditioning as needed. The woofer's paper cones are in good shape and they have been 're-foamed' and according to the specialist they are "good for another 10 years". The components were all re-wired as needed. The Presence and Brightness potentiometers were thoroughly cleaned and work very smooth.
Efforts were made to these speakers as original as possible while restoring to improve the sound, appearance and lifespan. The existing finish on the cabinets needed to be removed and then they were sprayed with multiple coats of clear polyurethane to bring out the natural color of the Mahogany and provide long-term protection. When in place, these speakers have a clean dramatic look that adds great sound and character to any environment. On close examination there are minor cosmetic flaws that still exist due to our attempt to retain the original logos and material thicknesses. A couple corners are 'darker' where the wood grain was sanded. There are hand written + / - markings near the connection terminals on the lower back. All the wood was very solid to begin with and is now quite beautiful with no worry about lacquer pealing or fading. The speaker driver mounting boards are still the original plywood with a few chips and nicks but are still very solid.
The original front Brass trim pieces were completely stripped, polished and chrome plated. The original light brown tweed type grill cloth was replaced with new black grill cloth that is of the highest quality and 99% efficient. In keeping with the original design, new Screw Terminals were installed for their connection to your amplifier.
All pictures can be clicked for very large views!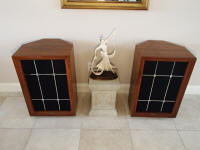 1950's Electro-Voice Aristocrat III Loud Speakers
We have invested lots of money and hours into this Restoration Project but we are confident that you will agree that these may be the best, most unique set of Aristocrats in the world today. No doubt a great investment in audio history and sure to please you for many years.
EV History:
In 1927 two young, but extremely gifted "radio experimenters" forged a partnership in the basement of the Century Tire and Rubber Company in South Bend, Indiana. Their business was servicing radio receivers and because of their exceptional skill they quickly became the largest radio service shop in South Bend. With the onset of the Great Depression the two young men, Al Kahn and Lou Burroughs, experienced a severe blow, being forced to liquidate their assets in order to pay their creditors. In the interest of survival Kahn and Burroughs focused their talent on a new aspect of the budding audio field, audio component development. Their initial product was the first of its kind, a portable public address system. The legendary football coach Knute Rockne of Notre Dame was their first buyer. The system allowed him to maintain a strategically superior position from an elevated tower to address his team during drills on 4 adjacent fields. He loved the device so much he nicknamed it his "Electric Voice." The name stuck in Kahn and Burroughs mind, so on July 1, 1930, they incorporated and adopted the name "Electro-Voice." From this point on E-V became a major force in the audio industry, producing numerous innovative products with applications in many fields. During WWII EV created a differential noise-canceling microphone. This technology became crucial for communication between American's Armed Forces and was standard equipment for all ground forces and Marine Corps. After the war EV was awarded a Congressional Citation for their important contributions to the war effort, and years later they received an Academy Award for their inventive components which significantly advanced the quality of sound on film. Today EV is one of the recognized leaders in the Pro Audio industry, although in the early years they produced the finest home HiFi loudspeaker systems.