1969 General Electric Console made by William Tell Woodcrafters, Inc.
Refurbish / Modernization Project
Finished value in 2022 about $4,000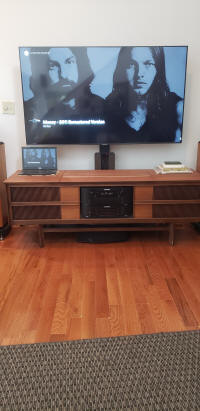 These old console units can make excellent big screen TV and Surround Sound cabinets.
We set out to modernize it - giving it a whole new life.
Standard bookshelf speakers slip into the Left and Right speaker chambers and the chambers provide a little extra bass. A matching Center Channel then sits on the floor. This then provides a 3 channel self contained sound system. A subwoofer and rear channel speakers could also be utilized if desired.
There is plenty of room on top for a turntable, and as solid as the console is I would suspect minimal acoustic feedback.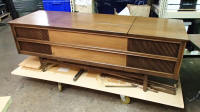 This console was constructed in the highest quality with all beautiful Walnut.
Overall condition as we got it was really excellent.

Images may be clicked for full sized images.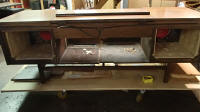 The stereo components were not working well and the speakers were solid but very low wattage and retro sounding. All the original components and speakers were removed.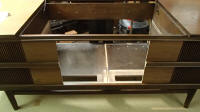 We then decided to cut open the front so it would accept standard 18" wide modern components. The bottom was then reinforced with across the entire width.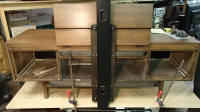 A very rigid TV mounting stand was then mounted on the back and reinforced.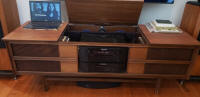 The opening lid allows quick and easy access to the back connections on the components. An automatic fan was added to keep things cool.

Images may be clicked for full sized images.