DaytonIT Computer Shop
941 E Franklin St
Centerville, Oh
937-886-0362
Mon-Fri 2pm-8pm
Sat 10am-2pm MAP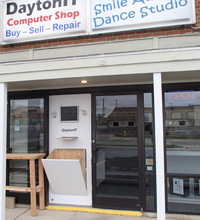 DaytonIT Remains OPEN - Implementing Safeguards:
The DaytonIT Computer Shop Continues to Provide ESSENTIAL Computer & Laptop – Sales & Service and "Individuals & workers may leave their homes & businesses to seek these Essential Services"
To ENFORCE Social Distancing and avoid spreading the virus we will interact with customers thru our windows and NOT in our showroom, computers and laptops are PASSED THRU A DRAWER and disinfected as they come and go. Our external keyboards and mice are used when servicing, work areas are disinfected on a regular basis.
Customers comments: "Clever", "Now that's Ingenuity" and "Thanks for taking this seriously". Charles with multiple PHDs in Health and Nutrition and a board member of the World Health Organization said "Great, Incredible System that helps keep business running while preserving the health of customers"
Remote Access Terminal Servers
Think about the benefits of having a secured, controlled Windows Desktop for users to access your specific applications? Want to avoid upgrading and maintaining all your users computers to run newer application software?
Avoid maintaining application installations on all users computer

Lock access down to eliminate internet threats

Minimal requirements for the Remote Access Computers

Access your mission critical applications from anywhere via the internet

Reduce high network / internet bandwidth to access your applications
Using Microsoft Terminal Services we can setup this reliable controlled environment for you.