DaytonIT Computer Shop
941 E Franklin St
Centerville, Oh 45459
937-886-0362 MAP

Mon - Fri 2pm - 8pm
Sat 10am - 2pm

eBay Store Setup and Management
Truly reach worldwide markets with greatly increased exposure and full online purchasing.
eBay Stores are an excellent investment. DaytonIT can setup and maintain an eBay store for your business. These are very affordable with inventory items listed for just pennies per month.
In addition to offering on-line purchasing, these are great for advertising your products and services. Ebay listings rank very high in Google Search Engine listings and can really help draw visitors to your own website.
Make your business accessible to a huge world-wide market.
DaytonIT can utilize advanced features to take full advantage of eBay Listings:
Create Promo Images that we can change once and then have all your eBay listings updated instantly and automatically

Use numerous photos to help sell your items, and they can be 'thumbnails' to be clicked on for larger - much larger views

Use Graphics and Full Rich Text easily for interesting item descriptions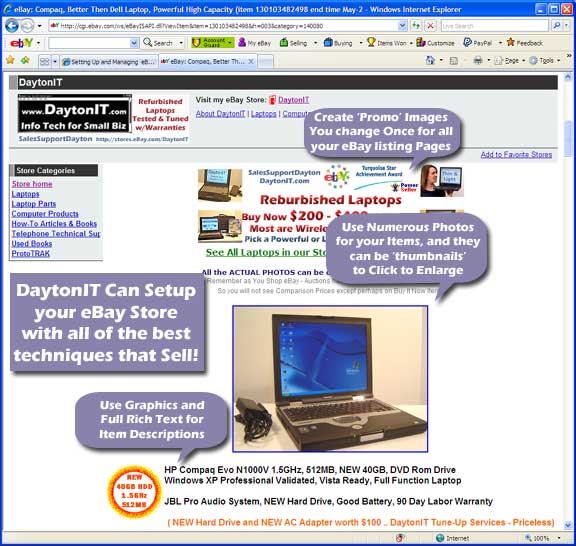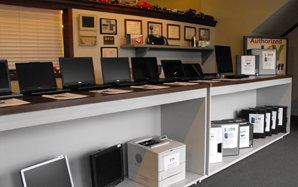 DaytonIT - Computer Shop
941 East Franklin Street
Centerville, Ohio 45459
Small Business & Home Users
Computer Upgrades & Repairs
Used & Refurbished Computers
for Sale Click Here
Call 937-886-0362 Anytime
DaytonIT Computer Shop located in Centerville, Ohio. Serving the greater Dayton Ohio area including Beavercreek, Bellbrook, Kettering, Lebanon, Mason, Miamisburg, Springboro, West Carrollton, West Chester and Waynesville.
Computer Shop Services include:
Repairing Dell, Compaq, HP, IBM , Lenovo, Acer, Toshiba, eMachine and all other Computers and all Laptops
Upgrading all Computers and all Laptops with more ram and larger hard drives
Removing Viruses, Adware, Spyware and Internet Threats slowing down older computers
Buying and Selling older laptops, computers and equipment
Convenient Centerville Location and Hours for Drop-off and Pick-up

Sales Support Dayton, Inc. dba DaytonIT
eBay Store Setup and Management - Providing Advanced Features and Increased Search Engine Exposure. DaytonIT can get you there!