DaytonIT Computer Shop
941 E Franklin St
Centerville, Oh 45459
937-886-0362 MAP

Mon - Fri 2pm - 8pm
Sat 10am - 2pm

Laptop DC Power Jack Repair Service in Dayton Centerville, Ohio

The DaytonIT Computer Shop provides fast economical DC Power Jack Repair service.

Repairing the DC power jack in the laptop where the AC Adapter plugs into Acer, Compaq, Dell, Gateway, HP, IBM, Lenovo and Toshiba Laptops.

Trust us, we can repair your DC Power Jack fast and economically.
Website Optimized for Mobile Devices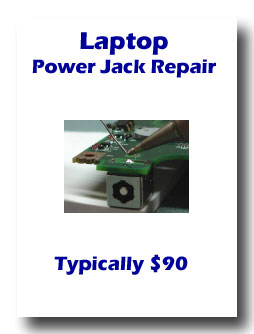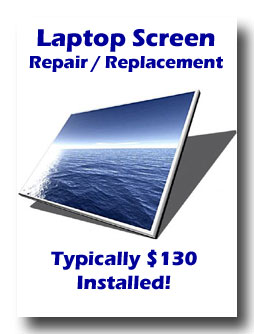 - A common problem with most all brands of laptops, the DC Power Jack either wears out, breaks or becomes loose from motherboard
- We can order in a new DC Jack for most any model
- The problem is that the entire laptop must be disassembled to get to it BUT we are very experienced disassembling and reassembling all the laptop parts
- However, this service can be time consuming and cost around $90

Full Laptop Display Repair
And YES We Repair Apple MacBook Pro Screens!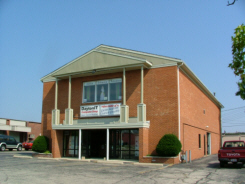 DaytonIT Computer Shop shop located in Centerville, Ohio. Serving the greater Dayton Ohio area including Beavercreek, Bellbrook, Kettering, Lebanon, Mason, Miamisburg, Springboro, West Carrollton, West Chester and Waynesville.
Computer Shop Services include:
Repairing Dell, Compaq, HP, IBM , Lenovo, Acer, Toshiba, eMachine and all other Computers and all Laptops

Upgrading all Computers and all Laptops with more ram and larger hard drives

Removing Viruses, Adware, Spyware and Internet Threats slowing down older computers

Buying and Selling older laptops, computers and equipment

Convenient Centerville Location and Hours for Drop-off and Pick-up
For the Past 10 Years DaytonIT has been providing:
Direct on-site computer and networking services

Microsoft network design and administration

Laptop computer repairing, refurbishing and upgrading

Used laptop sales and service

Sales Support Dayton, Inc. dba DaytonIT
FAST - RELIABLE - Laptop DC Power Jack Repair Service in Dayton Centerville Ohio! Highly Experienced Computer Shop for Laptop Repairs